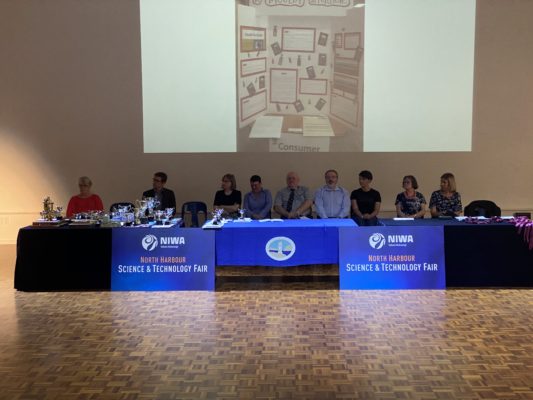 Our 2020 Prize-giving –
Jonathan Moores, MSc (NIWA Auckland Regional Manager), Jonathan Tredray (Principal, Norhcross Intermediate School) Dr. Debbie Jordan, (Chemistry senior tutor, Massey University) Dr Marie-Anne Thelen (Senior Tutor – School of Natural and Computational Science, Massey University), Michael Holderness, (BSc, BE, MEngNZ), Technical Services Manager, 3M New Zealand, Judy Peace (Sponsor) Jillian Haslam, DP, Northcross Intermediate School, Bruce Morrison (Bruce Morrison Quantity Surveyors) and Colin MacDonald, Chief Judge, North Harbour Science and Technology Fair
The North Harbour science and technology fair….
The organisation is a registered charity and was established to promote good science, technology investigation and research for our school students on Auckland's North Shore.
Each year we provide a platform for students from our schools where their investigations and research can be evaluated and judged.
Prizes and medals are awarded to the winning entries in each of various categories on offer.
Information for judges
The role of a science fair judge is challenging and at the same time rewarding.
As a judge you are given the unique opportunity not only to meet our budding young scientists but to also have a positive impact on the scientific lives of some of our very talented young people. Our judges come from schools, universities, industry, commerce and other institutions and we value the time and effort they give in support of us and our community.
Not only are our judges an ambassador for their respective professions but we hope they may well influence career choices of the students.
Committee members
Co-Convenors
Julie Prince

BEd (Teaching), HDT

Glenfield Intermediate School
Mike Wade

Northcote Intermediate School
Secretary/Treasurer
Mike Wade

BA, BEd(Hons), MEdPsych(Hons), NTSD, HDipEd(SP), FDipEd(EdMan), FDipEd(YP), GradDip TESSOL

Northcote Intermediate School
[email protected]
Chief Judge
Colin McDonald

BSc(Zoology, Botany), MSc(Botany)

Committee members
Aaron Harrison

BSc,PGDipTchng

Birkdale Intermediate School
Bev Pantry

BSc, HDipEd(PG)

Carmel College
Gareth Kruyen

BSc, GDipTchng

Murrays Bay Intermediate School
Helen Haine

BAppSc(FoodTech), GDipTchng

Massey University/Albany Junior High School
Jill Haslam
Northcross Intermediate
Martene Matthews

BSc Hons, PGCE

Albany Junior High School