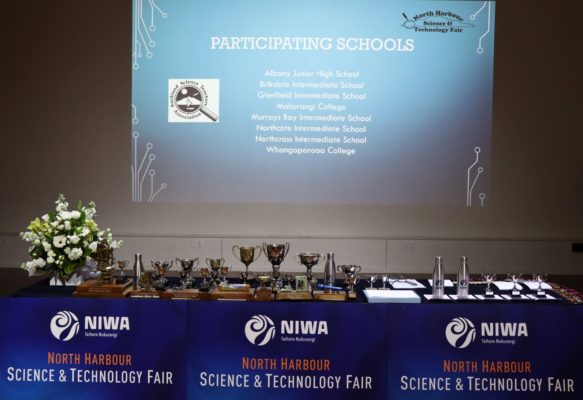 Our 2022 Prize-giving –
Christina England (DEPUTY PRINCIPAL) at Northcross Intermediate School, welcomed all guest speakers, invited guests, staff, parents and prize-winners.
Our guest speak from NIWA was Rikki Taylor (MSc) who gave an appropriate, interesting and relevant address to the audience. Prof. Jamie Quinton – the new Head of School of Natural Sciences also addressed all present.
Kate McIntosh – year 12 student, and previous recipient of some of our awards spoke about some the doors that had opened for her after her wins at North Harbour. Our other VIP's included, Dr Debbie Jordan – Senior Tutor Chemistry, Massey University, Michael Holderness – Advanced Application Engineering Specialist at 3M New Zealand and Bruce Morrison (Bruce Morrison Quantity Surveyors)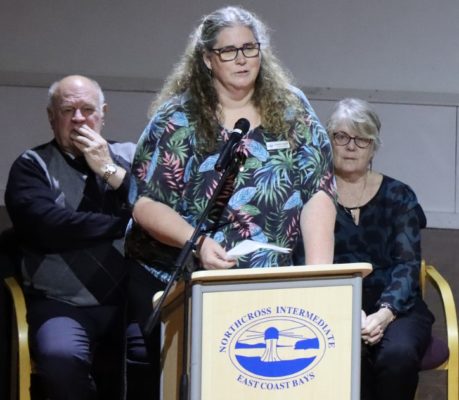 Christina England, Mike Wade and Julie Prince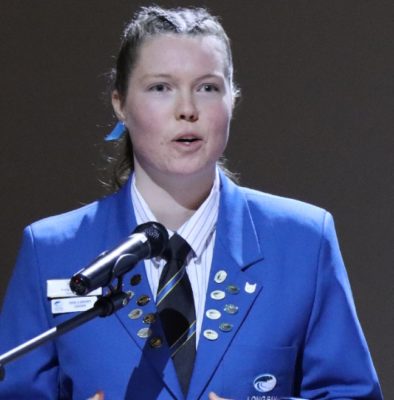 Kate McIntosh – year 12 student guest speaker.
The North Harbour science and technology fair….
The organisation is a registered charity and was established to promote good science, technology investigation and research for our school students on Auckland's North Shore.
Each year we provide a platform for students from our schools where their investigations and research can be evaluated and judged.
Prizes and medals are awarded to the winning entries in each of various categories on offer.
Information for judges
The role of a science fair judge is challenging and at the same time rewarding.
As a judge you are given the unique opportunity not only to meet our budding young scientists but to also have a positive impact on the scientific lives of some of our very talented young people. Our judges come from schools, universities, industry, commerce and other institutions and we value the time and effort they give in support of us and our community.
Not only are our judges an ambassador for their respective professions but we hope they may well influence career choices of the students.
It is my pleasure to report as co-convenor of the 2022 NIWA North Harbour Science and Technology Fair.
This year once again has been a particularly challenging one for everyone with COVID still making its presence felt in all walks of life.  The Omicron variant made life difficult for a while, but thankfully we have been able to proceed this year.
On behalf of the committee, I acknowledge the students for their commitment and effort in producing thought-provoking, high-quality science and technology projects. We realize this has been a challenge for schools with lockdowns and isolations caused by COVID. Consequently, our numbers of projects are down this year, largely because of difficulties such as COVID related absenteeism, and the fact that face to face learning has been limited. We sincerely thank all the teachers and parents for their support under difficult circumstances. In addition, we acknowledge the commitment of participating schools who were able to include individual science investigations in spite of the challenges.
The fair was once again held at Massey. We would like to acknowledge the staff in particular Dr Debbie Jordan for making this happen, and supporting us on the day. Students enjoyed science demonstrations while they were waiting for judges' interviews. The hands-on experiments held on Saturday were enjoyed by students and adults alike.
Thanks are also due to the judges who performed an excellent job on the day of the fair.
Finally, without Northcross Intermediate we would not have had a prize giving venue. Thank you once again for providing the venue for tonight's prize giving.
We would like to welcome our guest speakers tonight: ——Jonathon Treadway –principal of Northcross Intermediate; from NIWA, Rikki Taylor, Professor Jamie Quinton, the new Head of Natural Sciences at Massey University and lastly,  Kate McIntosh currently a year  12 student at Long Bay College, Kate entered our 2017 North Harbour Science and Technology Fair and won Gold in the Technology category. At ASB Bright Sparks in 2018, she received awards for Best Concept (Junior Category) and Top overall New Zealand female (all ages). ASB Bright Sparks programme is New Zealand's top competition for young inventors. In 2018 Kate was awarded the Junior Excellence Award (Service to the Community) AIMES award.
During 2020, we developed our website. This made it easier for students, teachers and the public to access details about our fair. Teacher and student guidelines and explanations were added in a slideshow format order. We hope this supported teachers and student effectively in 2022. However, like any website it will need improving and updating.
Finally, I would like to thank our sponsors. Particular thanks go to NIWA. Financially, the fair was possible again this year because of sponsorship from NIWA. The ongoing sponsorship by NIWA has been a significant boost to the fair, and we hope this collaboration will continue into the future. Thank you also to: Massy University, 3M New Zealand, Bruce Morrison Surveyors, the Auckland Science Teachers' Association, NZ Statistical Association and Statistics NZ, the Baking Industry Trust, the NZ Society of Soil Sciences, the Peace family and finally our newest sponsor Ballance Agi-Nutrients.
In addition, I would like to acknowledge Mike Wade for his dedication, organizational skills and the many hours spent in making sure a fair such as this runs smoothly. His considerable effort ensured that the 2022 science fair was successful.
Thank you all for attending tonight.
Julie Prince
Co-Convenor 2022
Chief Judge – Colin McDonald
Secretary/Treasurer/Co-convenor – Mike Wade
Julie Prince
Monique Auths  (Northcross Intermediate School)
Helen Haine  (Albany Junior High School)
Gareth Kruyen  (Murrays Bay Intermediate School)
Martene Matthews (Albany Junior High School)
Bev Pantry – (Carmel College)